August 10, 2018
Rising China and Modern Medicine for Over 1 Billion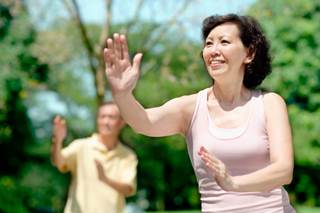 Tai Chi Improves Blood Pressure Control in Seniors
Several years ago, I was asked to perform a virtual consult on a 48-yearold Chinese business man with a complex hilar tumor in a solitary kidney. He was advised by some of the best specialists in his country that the only option was nephrectomy and hemodialysis. Four years after successful nephron preservation and recuperation at our center, I visited him and his country. Together, facilitated by the Champions of Medical Advancement, an American-based organization dedicated to improving Chinese health care delivery, we live streamed our experience to more than 50,000 viewers as I gained insight and appreciation for medicine in the world's most populated nation.
Visitors to Shanghai and Beijing will quickly note a remarkably modern and orderly managed society. Its economy is incredibly industrialist and quickly catching up with the rest of western world. Medicine in China is a unique amalgam of both Chinese and Western practices. Its hospitals are large, modern, and complex, typically with 4000 to 10,000 inpatient beds, advanced imaging, robotic technology, and impressive research facilities. Operationally, no appointments are necessary and everyone receives care: just show up and wait.
For some specialties, queuing begins the night before as physicians see 80+ patients per day (3 to 5 minutes per encounter). Under their socialized medical system, everyone is covered and care is always delivered. A quick glance in the outpatient "VIP patient lounge," however, suggests improved access to even more advanced equipment, medication, and specialists are available to those who demand higher quality.
Their socialized health care system, like so many others around the world, is undeniably tiered. Perhaps the most troubling aspect of these arrangements is that these systems risk the trust that sets the foundation for a healthy physician-patient relationship. When trust erodes, so too can quality.
It is obvious that Chinese physicians and researchers care deeply about their mission and the welfare of their patients. Despite limited resources to care for over a billion citizens, they are doing their best to search for solutions that deliver optimal care while recognizing the complex and myriad variables that may lead to unequal care despite their best intentions. Although the solutions are complex, the architects of our evolving health care delivery system should take note.